Bruins Work Up A Number Six On Rest Of NHL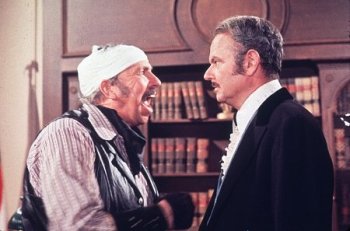 The Boston Bruins are 16-4-4 through 24 games, tied for first place in the Eastern Conference (with three games in hand on their competition) and second-best in all of hockey. In those 24 games they have lost by more than one goal just once. They were 11-1-1 in November, losing only one game outright out of thirteen. They are 9-1-1 at home, winning their last nine in a row outright.
Their depth chart has gone from "thin" to "overflowing" in a matter of months. Nine forwards are on a pace to score 20 goals, despite disappointing seasons from Michael Ryder, their main free-agent acquisition from the summer, the usually reliable Marco Sturm, who caught fire only after 10-12 games, and Patrice Bergeron, their best forward prior to his head injury last year. (Bergeron has as many even-strength points this season, eight, as fourth-line grinder Stephane Yelle.) The team has barely missed them.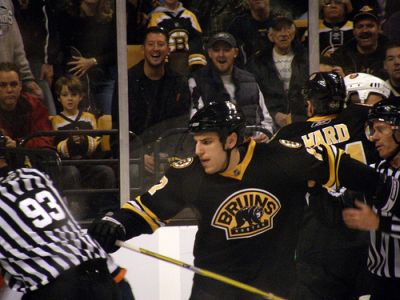 With the veterans struggling to find their scoring touch, the youngsters have taken control of the offense. Rookie winger Blake Wheeler is 2nd on the team in goals, but justifies his ice time by doing more little things than a college kid should know to do. David Krejci and Phil Kessel in particular have made enormous strides this season. The formerly nifty Krejci has become a formidable scorer on rebounds, and is damn near invincible while carrying the puck. Kessel's one-on-one moves are the best on the team, and his wrist shot is as good as there is in the league. And Lucic, despite concentrating on his physical game, is knocking home rebounds and making good on the Cam Neely comparisons. Overnight this team has become immensely talented offensively, far more so than they are credited with due to their defense-first reputation.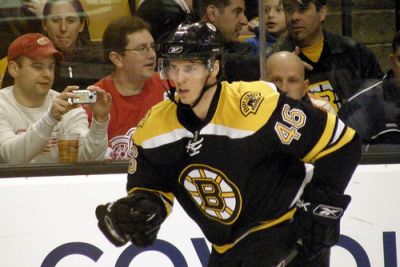 As for the defense, with rookie Matt Hunwick's emergence they now have seven reliable blueliners. Andrew Ference was having the season of his life before his injury, eradicating the unreliable, just-barely-good-enough defensive play doubts we'd come to expect from him. Zdeno Chara, Dennis Wideman and Aaron Ward have played their usual bulletproof defense. Mark Stuart, despite being assigned to the third defensive pair, has established himself as a top-four defender. Shane Hnidy is far from the weak link he should be. They could probably use someone good enough to send Hnidy to the bench and Hunwick back to Providence (say, pending UFA Jay Bouwmeester?) but if that doesn't happen it won't be the end of the world.
That's due in large part to their goalies, Tim Thomas and Manny Fernandez, who have proven to be damn near unbeatable. The pair has a combined 2.04 GAA and .933 save percentage, each of them sharing in the excessive win totals. Thomas alone has stopped an ungodly 94% of the shots he's faced. Fernandez' frequent play of late could be a prelude to a trade and a Tuukka Rask call-up... but that is probably just wishful thinking, as Fernandez' $4M salary makes him untradeable. Still, you never know. The main thing here is that Thomas has totally won me over as a valid starting goaltender. After three years of the same nutty stats, three years of expecting yet another overachieving Bruin goaltender to fail like they always do, I am a believer. He has had the best season of any Eastern Conference goalie, and he deserves to
start
the All-Star Game, never mind just taking part.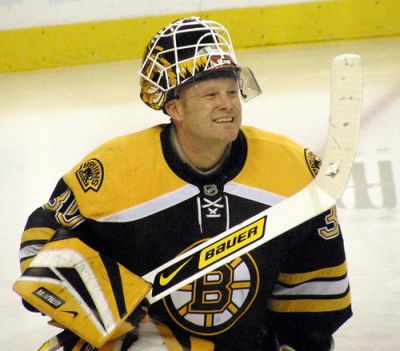 Claude Julien has certainly put to rest the ridiculous rumors about his departure from New Jersey, has he not? Certain elements of this team's performance (players never taking risks beyond their abilities, the constant churn of new players who fit in without missing a beat, the ridiculously low stats of both goaltenders) make you wonder what Lou Lamoriello could possibly have been thinking when he let Julien go
in the middle of a 100-point season
. The rap was that Julien wouldn't lead the Devils to playoff wins, but taking Montreal to a seventh game up here, despite significant injuries to Chara and others, sure looks like success to me, especially after the Habs absolutely owned them (8-0-0) during the regular season. The more the Bruins win, the more indefensible Julien's firing appears.
And it goes without saying that this is the first Bruins team since the Bourque/Neely/Oates era that was built to last. Peter Chiarelli has actually fixed this team. For real. No smoke and mirrors, no phony baloney. He pursued talent and keeps it happy. He instilled an organizational theme that the coaches and players have executed. He has re-instilled a sense of pride and dignity to an organization known for its
lack of same
.
Sidebar


The differences between professional, level-headed Chiarelli and raging prick cocksucker asshole Harry Sinden could not be more dramatic, and could not favor Chiarelli any more strongly. Ahhh, if only the internet had been around during Sinden's heyday. Many an outraged blog post would have been written at his deserving expense. Imagine how pissed he'd have been if he were trying to make his usual trade of a Hall of Famer away for being insolent, when here I come with a hilarious Photoshop of Harry and the player he just traded for: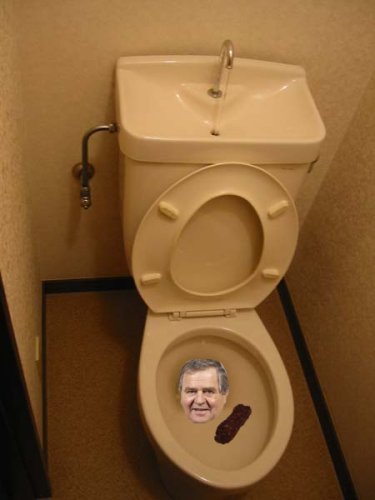 Or is that his 1997 family reunion? I just don't know.


End sidebar.
Speaking of Herpes Harry, the only level of management that isn't getting a handie from me is ownership. If the Jacobses put all of the above pieces in place, then their success happened entirely by accident. Because we all know it didn't have anything at all to do with the clowns who ruined Boston hockey in the first place. This wonderful revival is happening, like the Indians in
Major League
, fully in spite of ownership. Let me put it this way: if the Jacobs family funds a cure for cancer, and pays to elevate the entire population of Darfur province to the American middle class, then maybe I'll think about reconsidering them. Maybe. Until them, I hope they get raped by a pack of S&M elephants every morning at 8:30.
While this team is likely to regress at some point for any number of reasons (the young players will slump; the goalies will start letting a few in; the blue line injuries will haunt them) they have nevertheless registered themselves as a legitimate Cup Contender. THe past two seasons of Bruins hockey had looked like the worst of the Neutral Zone Trap All-Stars. But this team is now something far more substantial. The leashes are off.
[
photo credit
for all B's pics]
Labels: Boston, Bruins, don't go chasing waterfalls, hockey