Flags Fly At Half-Mast In Philadelphia

Well,
that's that
.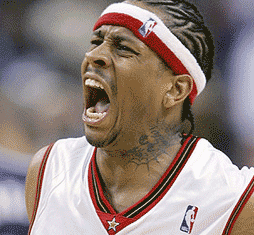 (I'd make that face too if I got traded to Denver.)
My first thought, apart from "wow, that didn't cost them ANYTHING," is whether Iverson and Carmelo Anthony can co-exist. Melo's game isn't an "involve all the teammates" type game. In fact, his and A.I.'s shoot-shoot-shoot mentality are kinda similar. One of them will have to adapt, and my money's not on Iverson.
On the other hand, A.I. has never had a teammate as good as Carmelo, so it's not fair to assume they won't get along. And they may be able to bond... Melo's going through the exact same character assault as Iverson dealt with in the mid-90's.
Also smart of Denver to replace Melo and J.R. Smith's scoring for the next month. Now they actually have a chance to compete in those 14 games. Cunning stunt by Denver.
As for the Sixers... dear lord. They've officially entered the Greg Oden sweepstakes. I really feel terrible for their fans. I may think Philly fans are awfully obnoxious (except Chas and Kabir) as a general rule, but nobody deserves this. Seriously. This is like trading Brett Favre. You
just don't do it
. And if you do, your career as a general manager is over.
Perhaps it's time for Sixers fans to go into Detroit Lions mode. They could stay completely silent all game long in protest of ownership's management of the team. But I suspect Sixers fans would just assume stay home. As would I.