PLAYOFFS?!?!?!?!???!?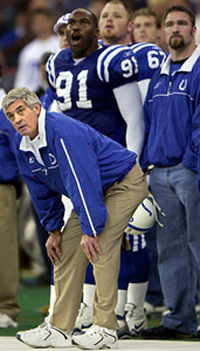 I'm probably not a good choice for writing up a playoff preview, since you probably can guess how I think it's gonna turn out. If you want a nice, thorough and non-partisan preview, go
here
. But if you want a biased Masshole opinion, keep reading.
FIRST ROUND
Washington at Seattle
. Washington is tough enough, and Seattle is flimsy enough, that this could come up Redskins. Todd Collins, Santana Moss and Clinton Portis are all peaking at the right time. But sentimental favorites and "trendy" picks tend to come up short around this time of year, which does not bode well for the Redskins.
Seattle 20, Washington 13.
New York at Tampa Bay
. This has bloodbath written all over it. At least the Giants get to see Florida in January.
Tampa Bay 31, New York 6.
Jacksonville at Pittsburgh
. Pittsburgh hasn't played well in a long, long time. With no running game and injuries aplenty, against a formidable Jaguar run defense... Jacksonville is overrated, but I don't see this one turning out well unless the Steelers open up an early lead on some wacky passing plays.
Jacksonville 19, Pittsburgh 14
.
Tennessee at San Diego
. Loath as I am to pick a Norv Turner team (or textbook loser-QB Philip Rivers) to win a game of checkers, let alone outwit Jeff Fisher and his defense, I don't see Tennessee pulling off a road win against LaDainian Tomlinson. He and his O-line are playing too well, and the Titans' offense isn't playing well enough to keep up with him. I could see the Titans keeping LT2 in check, but I don't think it will happen.
San Diego 28, Tennessee 16.


SECOND ROUND
Home teams win. Tampa and San Diego have the best chances to upset, but I still don't see it. We're gonna end up with the conference championships we've longed for since September.
Green Bay 27, Tampa Bay 13
Dallas 20, Seattle 10
Indianapolis 37, San Diego 28
New England 41, Jacksonville 14
CONFERENCE FINALS
Green Bay at Dallas
. This is a toughie. The last time they played, Brett Favre had a Brett Farve meltdown, and Dallas hadn't lost its groove. This time, however, I actually like Green Bay. Tony Romo's not exactly playing with confidence, and Wade Phillips is in charge. No way that ends well. I'm not exactly a Favre-head, but I can't see him losing to friggin Wade Phillips.
Green Bay 24, Dallas 21.
Indianapolis at New England
. Another rematch. This one's gonna be really, REALLY interesting, if only because the Colts seem better suited for outdoor play than the homestanding Patriots. And it's not like the Pats are invincible; the month of December has proven that beyond a shadow. I see the game as a strict 50-50 proposition, where a bounce of the ball will decide the outcome between two equal teams. This one is going to be a goddamn classic... but you can guess how I think it'll turn out.
New England 24, Indianapolis 21 (OT)
SUPER BOWL
Green Bay vs. New England
. I can't see Green Bay's offense ringing up much of anything against the Pats unless Favre throws exclusively to Ellis "Weakest Link" Hobbs. (If only he could deflect passes with that mouth of his.) I
can
, however, see Brady leading a drive down the field against the Packers' excellent pass defense. I don't see Favre winning the matchup of gunslingers this time... but it'll be interesting.
New England 21, Green Bay 14.
Labels: Football, if you're already a dynasty what comes next?, Jim Mora, NFL playoffs, predictions