God U Suck Award: May 2006

Yes, it has finally happened. After giving my old whipping boy Tim Wakefield a permanent reprieve, and after the departure of piece of shit and one-time scab Kevin Millar, I have a new source for all my hatred.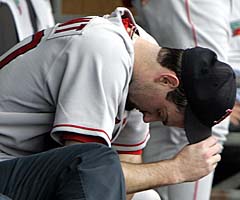 U SUCK
Ah, if only I could read the following items in tomorrow's Globe...

* According to a study in the New England Journal of Medicine, the number of foreign objects lodged in New Englanders' throats since April 1st is the highest seen in the Boston area in nearly twenty years. Researchers point to a location in the Fenway neighborhood, where a single individual, one Matt Clement, was found to be responsible for over 90% of reported results. As a precaution against future breeding, a group of doctors have surgically removed Mr. Clement's genitals. It was also reported that the surgeons took the rather unorthodox step of jumping up and down on the detached specimen and urinating on it, "just in case."

* Al-Jazeera is reporting that Red Sox P Matt Clement has been kidnapped by Al Qaeda leader Osama bin Laden. In a recent video missive, bin Laden explains that Clement will be held captive until such time as the "evil American infidels promote Jon Lester to the #5 spot." Al-Jazeera is also reporting that bin Laden has been torturing Clement by forcing him to pitch in the Axis of Evil semi-professional league, with the stipulation that Clement must consume one pound of human feces for every walk issued to an enemy batter. Sources within Al Qaeda claim that the notorious terrorist organization is running out of feces.

Boston GM Theo Epstein, stifling what appeared to be a smile, said that the Red Sox "do not negotiate with terrorists."

* Lansdowne Street institution Cask 'n' Flagon, recognized across New England as the premier pre- and post-game establishment for alcoholic Red Sox fans, has announced that former Sox pitcher Matt Clement will be served buffet-style before the next Red Sox home game. Guests will be able to choose between rotisserie-style, char-grilled, chicken-style steaks, and a habanero-and-mint-infused chili billed as "Clementhol." The giblets and sweetmeats are being kept for later use as stock. Doors at 5:00.

* A recent Gallup poll shows a record surge in President Bush's approval rating. Analysts suggest that the turning point in the President's public image is due to his recent disembowelment of former Red Sox P Matt Clement on national television. While the New York Times' editorial staff questioned the unilateral use of the Patriot Act to evade Mr. Clement's 14th Amendment rights, they went on to describe the ceremony as a "bold move," singling out the President's personal execution of the evisceration as being indicative of a "revitalized leadership strategy."

Oh, they're just foolish dreams, but still...