NBA Finals Game 4: Bravo

The great thing is that when they were down 24, I thought to myself, "they could still do this. Not playing like this, but it could happen." And then it did. What a night.
So many heroes. Ray Allen turns in another unsung performance, culminating in embarrassment on national television for Sasha "
The Machine
" Vujacic. Paul Fucking Pierce shutting Kobe Bryant the fuck down. James Posey showing his pedigree. And let's not forget Eddie HOUUUUUUUUSE!
Man oh man. I'm still clapping, and the game's been over for two hours.
While y'all in the clappin' mood...
...let's do something I may never get to do again: congratulate Doc Rivers on a phenomenal coaching job.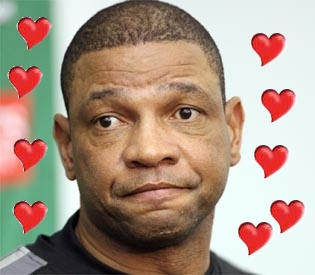 /blog explodes
//explodes with delight, that is!
Full marks to Doc tonight. This is his masterpiece. His rotations in the 2nd half were masterful... sticking with House, giving Posey huge minutes despite the 5 fouls, keeping Sam Cassell holstered, playing Allen the whole game. And he certainly kept his team focused and even-keeled, despite the 24-point deficit.
But above all else, let's talk about Doc putting Pierce on Kobe. It may have been Pierce's idea, but it was Doc's call. And since I'm feeling pretty generous, I'll let him take credit for that.
Enjoy tonight, Doc Rivers. Enjoy the glow of your masterpiece. Because by tomorrow, I'm going to forget any of this ever happened.
Labels: celtics, DO NOT Fire Doc Rivers, lakers, NBA playoffs, Paul Pierce Is The Truth