WHAT DID I SAY?

What did I say?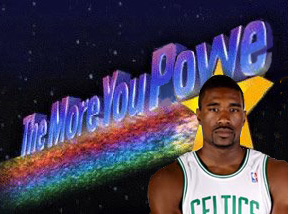 What did I say?
WHAT DID I SAY? WHAT DID I SAY??? WHAT DID I SAY?????? TELL ME WHAT I SAID!!!!!

DID I PERHAPS SAY THAT LEON POWE IS A FUCKING MANIAC AND NEEDS MORE MINUTES, BECAUSE HE ISSSSSSSSSSSSSSS AND HE DOESSSSSSSSSSSSS
Leon Powe instantaneously transformed this team back into the 66-win juggernaut that it has NOT been at any point in these playoffs. For the last six weeks, we've been wondering what happened to the Celtics. Doc Rivers killed them by burying Powe.
If you seek evidence that Doc is ignorant, and that his coaching job the past six weeks merits the death penalty, look no further than the shabby treatment of #0.
Labels: celtics, crazy Jeff, fire Doc Rivers, the more you Powe