HO-LAY SHI-TTTTTTTTT!

Wow.
Joey Bananas
is no more.
If this were any other team, I'd find this
trade
pretty fascinating. My first reaction, honest-to-God, was to say nothing but "Holy Shit" on repeat for a good 2-3 minutes. And not in a bad way. Getting
Marco Sturm
and
Brad Stuart
in return is pretty good, if not entirely even. And the fact that I object to Bananaman and his lack of leadership skills is are well-documented.
But this isn't any other team. There are two major problems with this trade; the first problem informs the second.
1) They aren't replacing Thornton's ability.
Sturm is a 25-goal guy, and Stuart will be the #1 defenseman they've sought since
Raymond Bourque's
departure, but there's only one franchise player changing hands in this deal, and the Bruins aren't getting him. That's not good. The situation on defense is atrocious, and Stuart will definitely help (he's the cornerstone now for Boston) but is this the best they could get for their franchise center?
2) Same old Bruins.
I took a look at some 2005
player salaries
on TSN.ca, and found the REAL key to the trade:
Player
Salary
Marco Sturm
$2.0 million
Brad Stuart
$1.9 million
Wayne Primeau
$1.1 million
Total
$5.0 million
--------------------------------------------------------------
Joe Thornton
$6.6 million
God-fucking-dammit. Fooled again. I can't believe that cocksucking Jeremy Jacobs piece of shit did it to us again. We got screwed out of a franchise center (albeit a highly imperfect one) over $1.6 million dollars. So just because they are the only mediocre team in the NHL's toughest division, this penny-pinching asshole reverts. Despite, might I add, the salary cap that's supposed to keep him from acting like the cheap bastard that he is. I'm sure the Garden's cavernous emptiness on game nights will show you just how little this city cares about your money-laundering operation. Thanks a lot, you selfish douche bag.
Actually, I'm guessing that you prefer your information in an easily-digested form, like most of the other rich, heartless, cowardly management types out there. So here's a visual aid for you: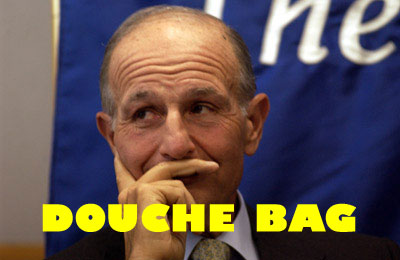 Enough of this nonsense; I'd like to end on a positive note. The Joey Bananas fight I linked to above... I was totally there, man! That's the last Bruins game I went to, which was on my 18th birthday (1/13/97) if I'm not mistaken. Thornton was a rookie back then, long before he earned the Joey Bananas moniker. #20 for Vancouver is center Dave Scatchard, who coincidentally was also traded from the Bruins this season. Scatchard big-leagued the Big Banana, one of those "welcome to the NHL" moments, so Joey beat the fucking snot out of Scatchard. He's been ending games on penalties ever since.
I guess that's the best way to end... I've just gotta remember that he's not perfect, he's not a wunderkind, and he doesn't seem to be a winner. He's just another really good player who's leaving town before his time over a few sheckles.